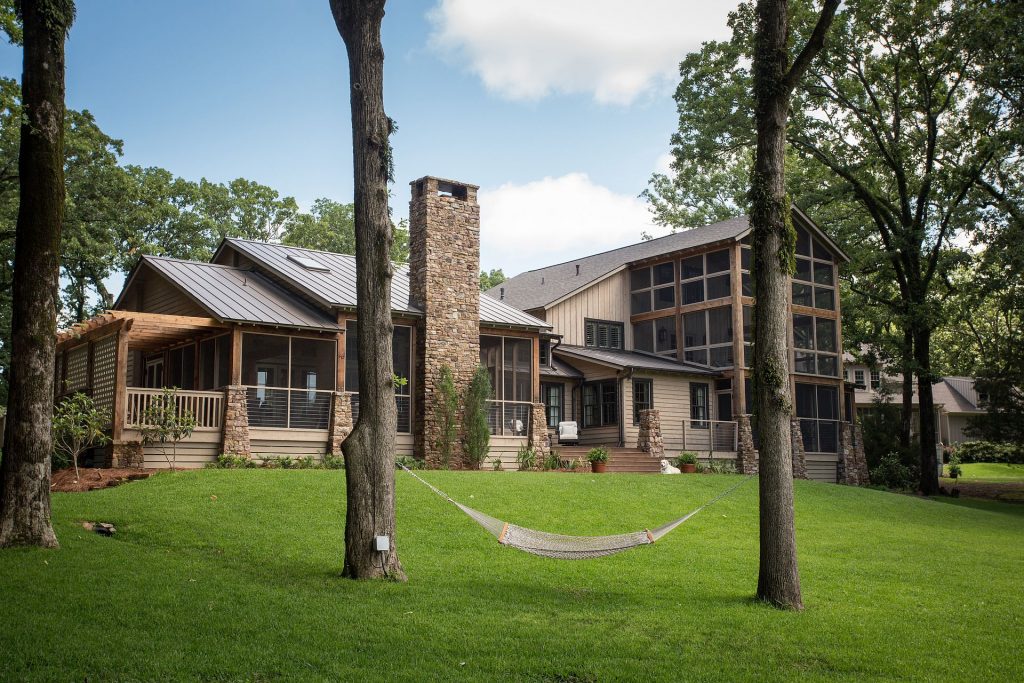 Architecture: David Turner - Landscape: Griffin Eggar - Interiors: Beth Keelor
For a family retreat on Lake Lorman, this couple approached David to design a lake renovation for them using their existing lake house. This existing house lacked character and was very dated. With its lake views, porches were a dominate theme for this renovation. We added over 2000 sq/ft of porches, with the main rear porch transitioning to the large kitchen through a 25' folding wall system bringing the outdoors in. The patina of age is seen throughout the homes materials; natural stone, western cedar exterior post, and antique pine beams all give the home a lake vernacular. Working with clients like these who have an artful flare for design always makes for a wonderful exchange of ideas. It's one of the things I enjoy the most. Ultimately, I believe the project reflects that very spirit.
"
We could not by more pleased with our new home. The house is exactly what we wanted and is absolute top quality. David not only constructed the home, but was also involved in the design process which helped make the building process itself very smooth. He also has a keen eye for detail which allowed for many customizations throughout the home that make it all the more unique as well as functional. ... I highly recommend David Turner Companies for homebuilding projects.
Katie Hobgood
"
Amazing company- our finished kitchen and bathroom renovation looks incredible, and it was a painless process. They are very organized! Thank you!
Dorothy Wofford
"
David and his team were great to work with. They are very experienced and knowledgeable. The quality of our finished project is superb. David was committed to staying ahead of what came next on the schedule and having his subs lined up so that we did not have days where nothing was accomplished. David showed creativity and flexibility in working with our architect. Highly recommend.
Beth Threadgill
"
Having recently toured Turner Companies projects and having had a chance to sit down with the team, I am thoroughly impressed with the whole operation. As the visionary of Turner Companies, David's amazing design sense, attention to detail and total commitment to his craft are evident everywhere. This is a unique and thriving company. I would highly recommend building with David Turner and his team.
Landmark Builders
"
It is rare to find someone who is has an exceptional design aesthetic as well as an expert's knowledge of construction. David Turner has both. HIs work speaks for itself. Behind David is an outstanding team that runs a highly organized system. I strongly recommend David Turner Companies.
Entablature, LLC
"
David is very professional and a good remodeler. He came up with a good design and plans to complete the project in a timely fashion. I would recommend him!
Laura Barbour